The Compact Visual Dictionary
The abridged versions of the Visual, lighter in content and format, make great carry-along references. The abridged edition contains 54% of the complete edition's content. The layout has been arranged accordingly, presenting some topics featured on one page instead of two.
TOPICS
Astronomy
Earth
Plants
Animals
Human Being
Food and kitchen
House
Do-it-yourself and gardening
Clothing
Personal adornment and articles
Arts and architecture
Communications
Office automation
Transport and machinery
Energy
Science
Society
Sports and games
22,000
words
per language
PAGES
576 pages + index
Up 696 pages
(5 languages version)
FORMAT
170 mm × 218 mm
(6 11/16 in. × 8 9/16 in.)
TARGET AUDIENCE
Teachers, young professionals

More precise than a photograph, more direct than a text, these illustrations classified by theme reinvigorate the very idea of an encyclopedia.
Magazine Enseignement

(France)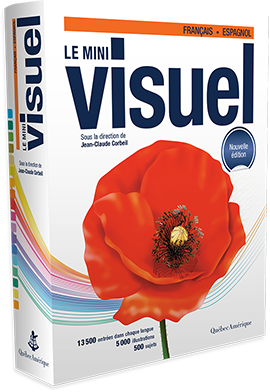 Mini Format
Abridged content in our smallest format.
Up to 2 languages
22,000 words per language
5,000 illustrations
PAGES
576 pages + index
Up to 624 pages with index
FORMAT
129 mm × 166 mm
(5 1/16 in. × 6 1/2 in.)
TARGET AUDIENCE
College and university students, travellers
add